How to Get Hubby to Clean
Updated: Apr 5, 2022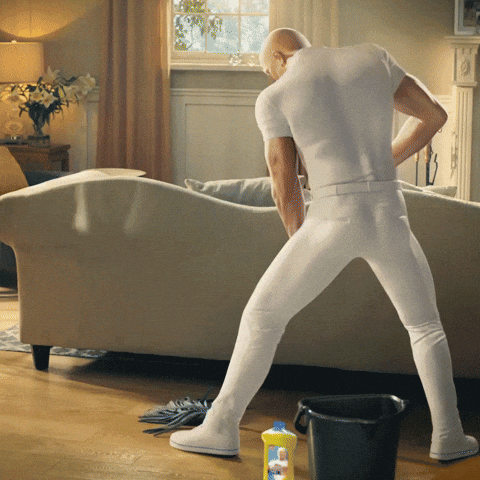 Sunday Funday
🌞.... Not. In our house, Sunday is for cleaning and responsibilities. I don't like going through our week with a dirty house 🏡 or loads of laundry 🧺 pending.
Hubs knows this and he's right on board with chores (usually).
There are two chores I HATE doing. Mopping and cleaning the bathrooms 🚽 . Bathrooms are icky and if you don't keep up with them they can become germy 🦠 and dangerous. Lucky for me hunny takes the bathroom responsibility. I think it's only fair because BOYS are GROSS. Sooooo that leaves me with the mopping. It's cool I'll mop, in my old house I had 12x14 tiles so pinesol and good old fashion ring mop were my favorite. Sad not sad it wasn't my husband's favorite. He hated to mop in that house. He would do it for me, but I could see that he would rather be cutting the grass in 90 degree weather ☀️ than dealing with a ring mop situation.
In my new house 🏡 we have luxury vinyl and laminate flooring and If you are familiar with floor care (SUPER CLEAN FREAK HERE) then you know you can't use a ring mop on vinyl or laminate. Every week I was mopping with a towel and my back began to hurt.
🚨 BEST HUBS ALERT 🚨 For my birthday 🎂 hubs got me the shark mop (BEST THING EVER) and my mom got me the shark robot vacuum. With these cool must-haves ill come home from a hard day at work and hubs already mopped the house WITHOUT COMPLAINING or making a STINKY I HATE THIS FACE. 🥰 People I don't know what it is but when my husband cleans he cleans like perfection clean, soooo good and 10x better than me and he knows this!!
The shark 🦈 mop is so easy to use my seven-year-old mops his room. Just make sure you keep it charged and keep up on the refill pads. One refill pad mops my whole downstairs living room, kitchen, 2 bathrooms, dining room, and office.
The shark 🦈 robot vacuum (we call her Rosie) is great too!
Hunny set it up and put it on a schedule. Rosie cleans my downstairs vinyl from 3pm-5pm everyday. All we do is empty the canister. She docks herself and unloads herself. Check out the SharkMop through my amazon link! #ad
Cleaning Tips from my article ladies:
-Sweet talk to your husband for the shark vacmop.
-Present a great sales pitch on how it will decrease your complaints.
-Worst-case scenario seduce him then ask for him. 😂😂😂
***once he buys it watch how quickly and easily you'll catch him using the mop***
Check out the SharkVacumn through my amazon link! #ad
Cleaning Tips from my article gents:
-Surprise your wife with the vacmop. Youll get extra kisses. -Relieve some stress from her and buy the shark vacuum.
It's a win win for everyone!!! You'll thank me later 😉